Calendar
From eedomus - Documentation
The eedomus calendar simplifies the automation of the home.
It uses a typical day (day type) to build a typical week, without you having to type the information 7 times.
Each typical day may contain one or several timed periods called phases (e.g. Rise, Day, Back from work, Evening, Asleep, etc), which facilitate the triggering of programs.
With a calendar, you can set holiday and exceptions that will take place in the future. You can even import exceptions (to automatically integrate public holidays or school holidays in your area).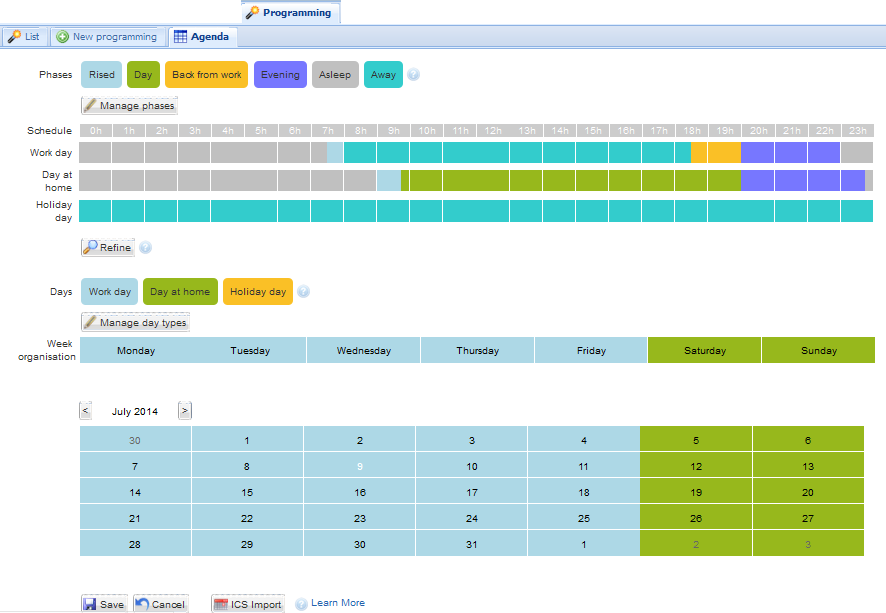 Tips!
You will find the current day and the phase in the display Programming.

You can change the day and the phase (and even the day of tomorrow) from any interface, e.g. to suspend the heating or to wake up later tomorrow.
ICS import
The ICS format permits bulk import of calendar exceptions to one's account.
Examples:
To import a file, you must download it to your computer first (to allow web browser upload).
At the time of the import, the eedomus site will ask you towards which type of day (holidays, other) you wish to wish to import dates.