Cameras
From eedomus - Documentation

eedomus services for IP cameras
The eedomus services allows to:
help you configuring the camera (the configuration is automated for some brands)
store images sent to eedomus FTP Cloud Service
provide easy access to past images, with a search engine or with video timelapse
provide easy access to live image
can trigger a rule on image reception
can send commands to cameras providing an API (through HTTP commands)
Compatibility
The system eedomus is compatible with most of IP cameras.
To be integrated with eedomus, the camera must have 2 features:
sending still JPG images to a FTP serveur (on movement or on a regular basis)
having a static URL to the actual JPG image (to visualize live video), such as for example http://ip_camera/myimage.jpg
View of images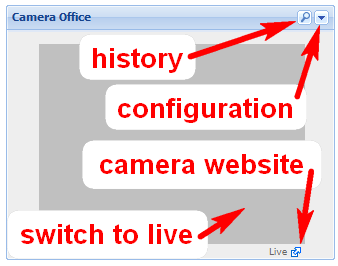 Widget normal view: last image
Eedomus site gives you access to the historical images saved by cameras on eedomus ftp service.
By default, the last saved image is displayed on the widget.
Historical images
When you click on the "magnifying glass", you access the historical of images, with a search engine. You can search images using a calendar by date-time.
You can filter images, for cameras that support it (including Axis).
The images are identified as "regular (every 15 minutes by default)" or "triggered by a movement." This allows to visualize only the images with "movement". The moving is the "PIR" for the cameras or M1033W M1054. The movement is a movement in the image detected by the camera for cameras without PIR (Axis P3364).
Live view
You can change the type of display: to display the images "live" (and continuous).
You also have a link to the live video from the camera (after the proper configuration of the router or the password of the camera).
Video of a day
eedomus offers a functionnality to generate a timelapse video of the day.

Management
Add or delete a camera
To add a camera, go to add a device, and select : Axis Camera or Other Camera.
To delete a camera, use the "delete" button in the configuration of the camera. The deletion of the camera deletes all the stored images.
Image Management: removal

Images can be deleted if necessary (click on "delete" in the history of pictures).
Deletion can be one by one, or, between two dates.
When the storage quota is reached, the oldest images are automatically deleted first with the arrival of new images.
Camera management
When you click on the triangle, you access the device configuration on the site eedomus. It contains ftp server settings for images.
We advice you to use the login and password supplied for the access the camera (and to use the same password for ftp and configuration). For Axis camera, the login and password are automatically configured.
To access the internal configuration of the camera, you car use :
the link at the bottom right of the widget
find the camera on the network (UPnP, IP) and use login/password.
The internal configuration give access to additional settings.