DHCP Sensor
From eedomus - Documentation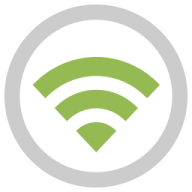 Preliminary note
This feature is only available for the eedomus + controller
What is a DHCP?
DHCP stands for Dynamic Host Configuration Protocol, it is a network service offered by your ADSL gateway or your home router.
Detecting the connection of a device on your Wifi network
When a network device (ex. your smartphone) connects to your local network, it sends a global request for a DHCP to assign an IP address.
This request is seen by all the devices in your network, including your eedomus+ controller, which is able to record this event and therefore trigger actions accordingly.
The technique is simple and fast. And it is also secure, provided your Wifi network is secured.
Integration with eedomus+
There are many ways to use this functionality, as many as you define them, but here are 2 examples:
If you have an Amazon Dash button, it will send a DHCP request with a unique MAC address each time you press it. You can trigger the actions of your choice for each of your Amazon Dash button. (Deactivate product orders for this type of use!)
When you arrive home, your smartphone will send a DHCP request as soon as it connects to your Wifi. This allows you to trigger the actions of your choice (e.g. turn on the aisle lighting ...) using appropriate rules.
Set-up
Click Configuration -> Add or remove a device -> Add another device type -> DHCP - Detector -> Create. This device does not require any special configuration.
Once created, you can trigger a DHCP request by a network device:
Example for a Amazon Dash button: Press the button (Configure your Amazon Dash button to connect to your Wifi but do not activate the product commands for this type of device. 'use !)
Example for a smartphone: Activate and Deactivate the airplane mode
After a few seconds your eedomus device will display a value of this type, which is the MAC address of your network device, which allows you to uniquely identify it:
Then click Add value to assign a name and a custom image to the device: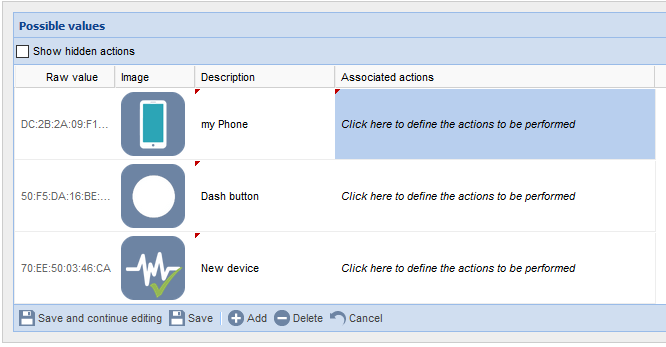 You can now use this value in your schedules and rules.