Eedomus and Broadlink
From eedomus - Documentation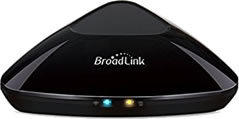 What is the Broadlink RM Pro ?
The Broadlink RM Pro is a WiFi device that can send infrared commands to your audio/video devices or air coolers.
A smartphone app allows you to make it an universal remote.
With eedomus+, you can record your infrared commands (by learning them with your existing remotes) and execute them on demand with the eedomus app, macros or rules.

Adding a Broadlink RM Pro to eedomus
Beforehand, your Broaklin should be connected to your local network. The Broadlink App ie necessary for this step of wifi configuration. Then, it is not necessary. The learning is done without this App.
Click on Configuration / Add or remove a device / Add another type of device / Connected Objects / Broadlink RM Pro / Create
Then click on the link that will allow you to find the IP and MAC address of your Broadlink RM Pro.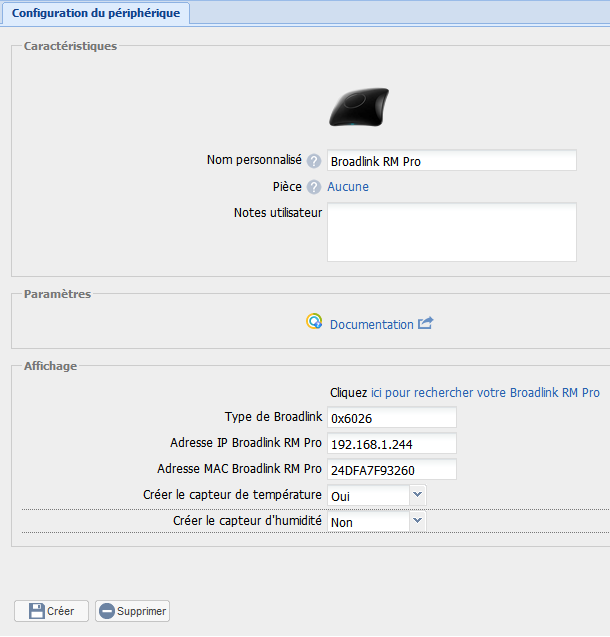 Usage
Two devices are automatically created. The first one has 1 button on the Value tab. Select the line and click on Test to configure it. This click must be done when you are on your local network.
Then click on Learn. When the LED of your Broadlink RM Pro gets orange, you can press the desired button on your infrared remote.
That's it. The button is now programmed and can be used with eedomus.
The second device contains the measured temperature by the Broadlink RM Pro.

Add a new button
In the Values tab of your eedomus Broadlink RM Pro device, click on Add, copy the URL on the upper line and paste it on the current line, click on Save and continue editing, then Test.