Eedomus and HomeKit
From eedomus - Documentation
Introduction
Apple HomeKit is the Apple Home Automation solution. It consists of the App Home and its communications with third party software, like eedomus. HomeKit gives you the ability to use Siri to voice control your home, e.g. Light the Living Lamp.
eedomus, though yet to be certified a HomeKit product, has been developed to be fully compatible with the Home application by design of the data exchange with HomeKit. (Apple, iPhone, iPad, HomeKit are Apple brands).
Configuration
HomeKit is activated from the configuration of your box (only for eedomus+) on secure.eedomus.com.
Click on Activate Apple HomeKit then Save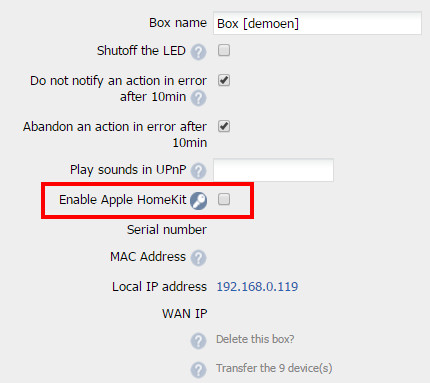 You may limit the devices available through HomeKit with the supplied link. For clarity purpose, we suggest to limit the number of available devices in Apple Home (less than 10 is recommended). To access this page, return on the page below and click on the secured icon.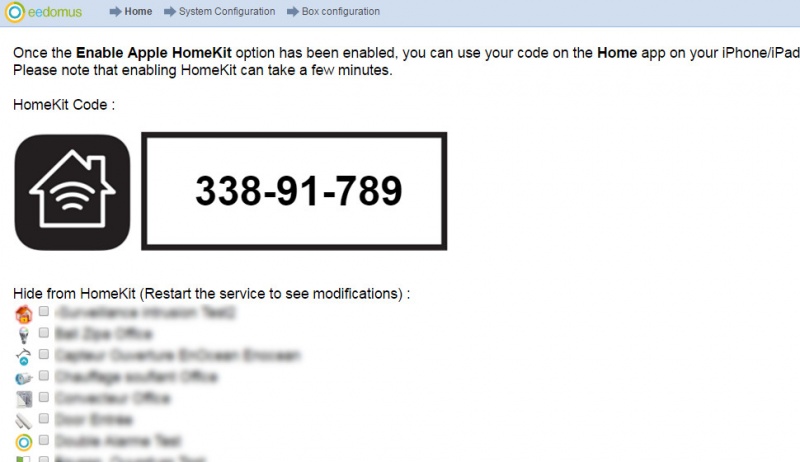 Restart HomeKit service is useful with trouble communicating with Apple Home
Reset and restart HomeKit is useful to restart from scratch the configuration of Home (You have to remove the home in Home).
Once HomeKit is activated, you should launch Home on your iPhone or iPad and click on Add a device
Check eedomus (it may take a little time before the eedomus logo appears. If not visible after a few minutes, reset/restart HomeKit on secure.eedomus;com)


Accept the message about certification.
Select enter the code manually and enter the 8 digits displayed on secure.eedomus.com (in HomeKit parameters)
Choose the rooms for your devices, click on Next for the next device
Note 1 : the eedomus rooms are not read by HomeKit. You have to create them manually.
Note 2 : be careful not to click too rapidly on Next button, otherwise, some devices may be entered in duplicate

You can now visualize and control your device in the 'Home App.

Screenshot of Home App

Screenshot of Siri

The eedomus concept of Scene may be used in Apple Home. The scenes are integrated as virtual switch. 1 state of a scene : 1 switch in Home
This concept is useful to trigger multiple devices with one Siri command.
Tips
Simplify the names of your devices to ease the speech recognition
Limit the number of devices
Limitations
eedomus for HomeKit works on eedomus+ box only
Remote control with Siri requires an AppleTV
Only some devices connected to eedomus are supported by Apple Home : lights, relays, heating, smoke sensor, ...
If you restart your iPhone/iPad, and have no more communication with HomeKit, a restart of eedomus Service may help
The status of the devices is done through regular polling. Thus, it may take several seconds or up to a few minute depending of the number of devices.
If you are still experiencing difficulty, as a last resort it may be necessary to reset/restart HomeKit on eedomus, and remove/add Home on iPhone/iPad.