Eedomus and Legrand
From eedomus - Documentation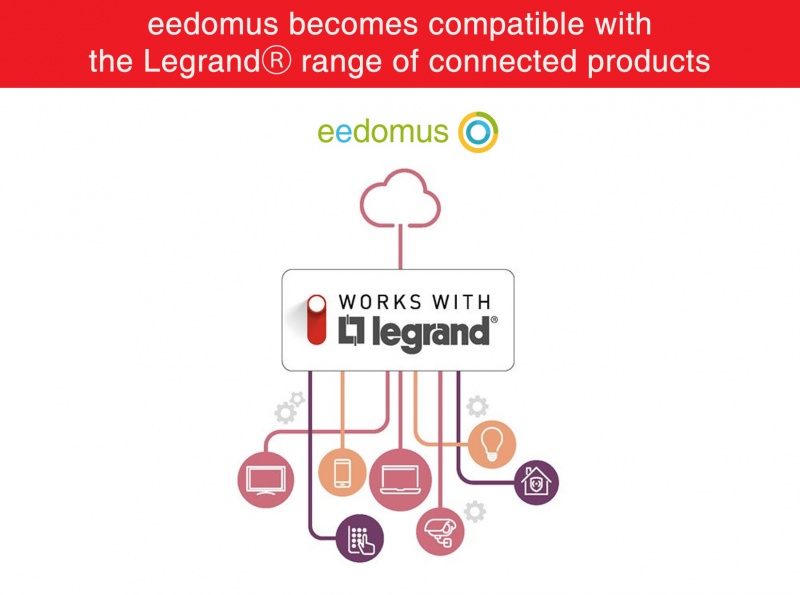 Introduction
Legrand® connected devices have a web API that allows them to be controlled from eedomus.
To date, the range consists of smart sockets, light control modules with dimmer and actuators for roller shutters (brands Dooxie, Celiane, Legrand are registered brands).
Configuration
Requirements: Your Legrand® connected peripherals must be correctly configured and you must be able to control them from the Home+Control app. In addition, you must have a working eedomus controller.
In the eedomus portal, go to Configuration / Add or remove a peripheral / Add another type of peripheral / Legrand® with Netatmo / Create.
Then follow the on-screen instructions to create the devices in eedomus. Repeat this operation as many times as the number of devices you wish to create.
Notes
Note Since the Legrand® API cannot be accessed locally, it is not possible to use it in the event of an interruption of the Internet connection (however, in such a case, the Legrand® Home+Control app should continue to work).
Note Legrand API migration (May 2022)
Legrand/Netatmo has revised its API in May 2022. Eedomus devices created before this date must be re-linked to be able to work after this migration. To do this, go to the configuration of your Legrand/Netatmo device in the eedomus portal, and click on the link under "Expert settings".
In case of difficulty, it is possible to delete and recreate your Legrand/Netatmo devices in eedomus.