Eedomus and Sonos
From eedomus - Documentation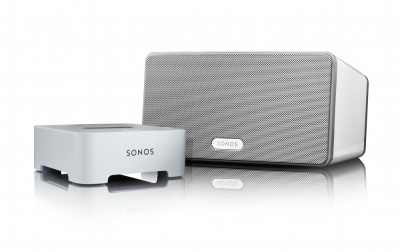 Introduction
Control your Sonos multi-room system with eedomus.
Launch a radio, a Spotify playlist, a favourite, an audio announcement on one, or several Sonos devices.
Sonos advanced features require a box eedomus+. First generation eedomus users can manipulate their Sonos by an UPnP actuator.
Creating in eedomus
Click on Configuration / Add or remove a device / Add another type of device / Sonos System / Create
Enter a name for your Sonos zone, for example, Living Room, or leave the zone field empty if you want to control all zone simultaneously. (You can create as many eedomus modules as you wish).
Use
Two devices are automatically created, the first controls the Sonos player as well as some examples for launching a song or a playlist on certain services.
The second device controls volume. You can duplicate the existing values, or add other amounts as you like.
Advanced features
The eedomus module for Sonos hosts a web server on the port 5005 of your eedomus box+ (http://IP_DE_VOTRE_BOX:5005).
You can access many advanced features on this page that you can exploit by use of HTTP actuators.
To know the URL of a song launched via the Sonos application, and then to launch via eedomus, you can use (http://IP_DE_VOTRE_BOX:5005/state).
The Sonos module for eedomus is based on code contributed to Jishi.