Expert Mode
From eedomus - Documentation
What is the Expert Mode?
Choosing the "Expert Mode" allows you to add advanced features beyond those available in "Normal" mode, as well as to access certain control pages.
These features are hidden by default in order to simplify the interface for beginners.
How to proceed?
You can change your account to "Expert Mode" just by checking the box in My Account, as shown below.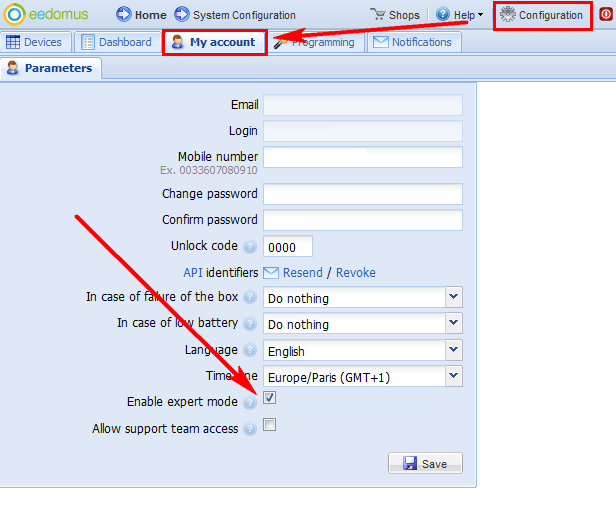 What does it imply?
The Expert Mode allows the user to create Custom Rules and to send Radio Commands for advanced Configuration of devices.
The Custom Rules are managed through a powerful rules engine.
Nevertheless, be careful as you are getting started with the Expert Mode, as the handling of custom rules may be complex. This is your own risk (closure rule, triggering unwanted). We may not offer support on all of these features.
In the Expert Mode, you can use the rules engine to:
Create custom rules
View the table of rules
Note, the rules are of two exclusive types:
Time-released
Triggered by a change in value of a device
Virtual states are used to store states to perform more complex operations.
In Expert Mode, you can also use the custom settings for radio Z-Wave Devices. Check the documentation of each device to understand the advanced Configuration radio parameters. This will allow for example to:
Switch off the LED a motion sensor
Configure a relay in monostable
Change the duration of the wake-up time (to save battery).
In Expert Mode, you have access to certain supplementary functions.
The possibility to edit hidden values of some devices
Tips
Some words of advice:
Be careful of creating virtual states that may lead you to a programming loop.
Start by sending mails for your rules, before moving to SMS (you may use up your SMS balance by error)
Do not hesitate to inform us of any mechanisms that you so wished. Our goal is to enrich the features offered in Normal Mode.
Good to know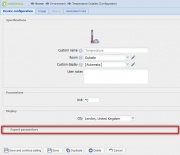 It is not necessary to use the Expert Mode to see advanced parameters of devices (called Expert parameters). In these cases, you only need to click on the small triangle on the left to visualise the list of these parameters. See image.