For your children
From eedomus - Documentation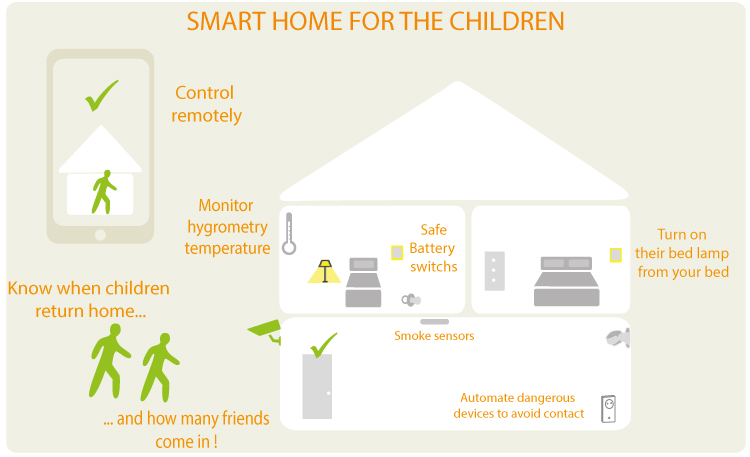 The eedomus system can help children, and their parents, in a number of ways.
For infants and pre-school
Special lighting
Parents often wish to provide special lamps to help their youngest of children.
This can be as simple as a safe battery powered switch for the light next to, or above, the child's bed. Parents could also control this from their own room. To complete, you can add a timer to turn the lights off automatically. Very useful in many cases!
Electrical devices
Some home electrical devices can be dangerous for young children, such as Christmas tree lights, or presence of 220 Volts.
Remote control a Fibaro Wall Plug, for example, with the eedomus system will help ensure that all is safe and secure.
Climatic comfort
Monitoring temperature and humidity levels in spaces used by children helps parents provide the ideal climatic conditions for their child's health.
Discreet monitoring
Parents appreciate being able to check on their infants and young children without entering or disturbing their sleep. A camera, or two, connected to eedomus system can do the trick!
School age and older children
Coming home from school
For school-aged, eedomus (cameras, detectors) allows parents to verify when their children have returned home, and if any (or a number) of friends have accompanied them.
Home alone ?
It is never wise to leave children home alone without some form of monitoring nearby. For older children, cameras allow parents to know that all is fine at home.
Smoke detectors
Children are the cause of 1 in 7 home fires. Connected smoke detectors will not only alert children at home of danger, but also notify their parents!