Why choose eedomus?
From eedomus - Documentation
Versatility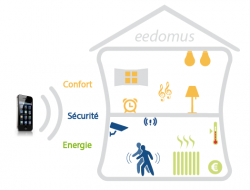 The edomus box is ideal for many home uses :
Security : alarm system control, motion detection, cameras
Energy : heating, air conditioning, economisation
Comfort : lighting, control of movable doors and windows, multimedia
Control from a distance or through automation.
You are free to choose the customisation that you desire, today or in the future.
Why Z-Wave technology? Freedom of choice!
The box eedomus utilises Z-Wave radio technology, the world's leading smart home technology. Used by hundreds of manufacturers, this open system allows customers access to a vast selection of devices that be purchased both online and in a wide variety of stores. Be sure to check that you have the correct Z-Wave radio region for your location.
The Z-Wave technology also has two technical advantages:
Bi-directional (necessary to drive lamps, heaters, with certainty)
Mesh network (which improves the quality of the radio network)
Z-Wave devices can easily be re-used, sold, used with another gateway if you wish, thereby increasing the value of your investment.
If needed, the box eedomus supports other protocols, with extensions, to give you an even broader choice of peripherals.
No-fee offer
It is possible to use eedomus without paying any subscriptions, including remote access by phone and email alert notifications. Premium users have access to the full range of eedomus capabilities.
Dedicated Support from our eedomus team of experts
The eedomus company specialises in home automation, we are there to ensure that our customers and our products are supported round the clock.
The eedomus system is among the most versatile in terms of usage.
Updates !
Improvements are made regularly, taking into account customer feedback in our forum eedomus.
With eedomus, you are free!