Android App
From eedomus - Documentation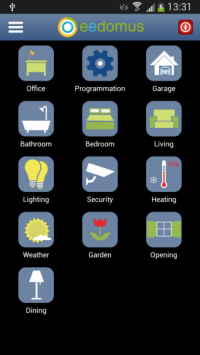 Quick to use, and always in the reach of your hand, eedomus App is available on the PlayStore.
The application offers the visualisation and control of your eedomus system.
The full computer version is still necessary for the global configuration. ZWave inclusion is available on smartphone.
Menu
The menu offers :

Home, then you can navigate to rooms and devices
Settings are the Terminal Settings (notification, logged in account, version...)
Diagnostic. It allows you to check that your box is available.
ZWave Network. The only Configuration function available on smartphone.
Synchronize. Iff you have had a device on your system, then synchronize to update quickly.
Navigation
The navigation is similar to that of secure.eedomus.com.
Just use the back Android button to go back to the upper page.
You can have access to the timelapse video generation of the day by click on the image of your camera.
Map Mode
For a graphical navigation, use the Map Mode.
Tips
When the eedomus logo shows the word LAN, there is a direct communication between the App and the eedomus box.
The application accepts Push notification (according to configured account).
If you have difficulties to vizualize the Live of your camera, check on the eedomus portal (diagnose tab).
Requirements
The minimal version is at least Android 2.2 / Froyo.