For your garden
From eedomus - Documentation

Eedomus system gives you the opportunity to automate repetitive actions; to better take care of your flowers and plants, or efficiently manage the use of ambiance lighting.
Outdoor lighting
Your outdoor lighting, just as your indoor lighting, can be driven, according to motion sensors or to a timetable. Furthermore, you can associate the timer to a button.
Lighting of your garden provides comfort as well as increased security.
Watering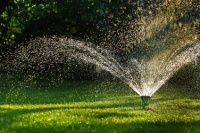 Eedomus system is able to open the "electronic valves" to control your garden watering system.
You can use a radio relay Fibaro IPX800 if you have many starts to drive. The valves are most frequently controlled with a voltage of 12 or 24 volts.
If the water comes from a "water well pump", it is quite possible to automate the same way. Think systematically about adding a timer program in order to stop the water few hours later.
Watering can be triggered at sunrise or sunset.
Plants
To monitor your plants, the Koubachi sensor makes an outdoor version to inform you of the "ground humidity" (as well as temperature and the sun). This wireless device interoperates with 'eedomus' via the API. You can receive an SMS or trigger watering if humidity is too low.
A communicating outdoor thermometer (in a single device ST814 or sensor Koubachi ) allows you to anticipate the "frost coming', so you can think about when to bring your plants indoors.
Excessive water consumption
Watering can also be a source of excessive untimely water consumerism, due to leaving the tap open, or from a bad hose or pipe.
In case of excessive use, eedomus gives you the opportunity to be immediately informed by mail or SMS.
The average house consumes less than 0.3m3/day (around 1 euros/day). However, an open tap can pump more than 25m3/day.
Details available on Connection of meters.
Swimming Pool