The eedomus box
From eedomus - Documentation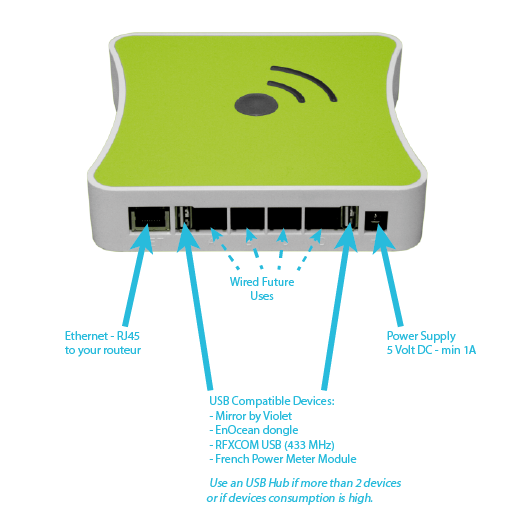 The box eedomus is an embedded Linux server.
eedomus+ (version 3.2 january 2015)
The eedomus+ is much more powerfull.
It offers ZWave+ and Audio features.
eedomus (initial public version, version 2)
Its internal Characteristics:
OS: Linux
Processor: Samsung ARM9
Memory: 64 MB RAM
Z-Wave Radio Europe (Zigbee Support Planned)
Power consumption: about 1 Watt (Watt and one for the power adapter)
Its connectivity:
An external 5V supply (comes with Europlug connector. Most European countries, see Wikipedia C type
A 100 Mbps Ethernet
2 USB ports
4 RJ11 ports for future use
Communicates the box securely with the management platform (dual servers in a secure environment), in HTTPS.
The box has an embedded web server, available at: http://ip_de_la_box. This server is only Useful in case of emergency (loss of internet connection).
The box and services are fully developed in France (The entire design and all software). Hardware production is located in Asia. The assembly is made ​​in France.